Links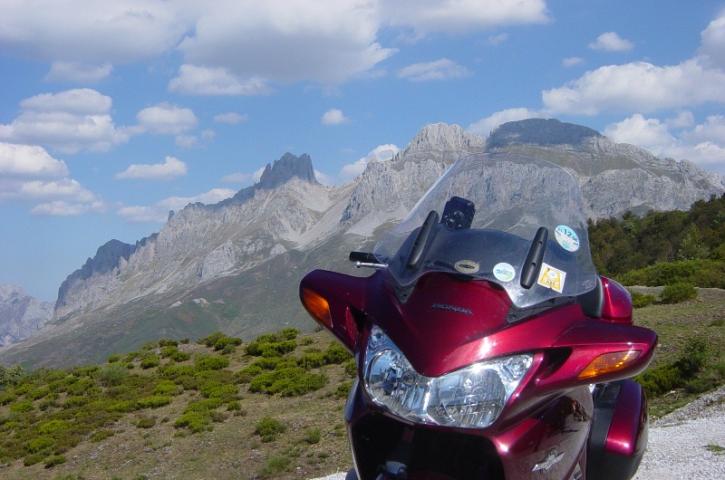 BIKE FRIENDLY ACCOMMODATION
BEDS4BIKERS - Biker friendly Bed and Breakfast, Self-catering & Camping sites accommodation across the world
BUCK INN - bike friendly inn on the famous Helmsley to Stokesley road
HOTEL BANDEOLERO - Rural hotel and restaurant in the Ronda area of Andalucia
LA PECH - bike friendly B&B in the Lot-et-Garonne region of South-West France
LA NOYERAIE - B&B, Gite and cafe run by a Jennifer & James from Harrogate ! - Fresh scones and Yorkshire tea - just 4 minutes from the medieval city of Rocamadour.
LA ROSE ROUGE - A little bit of England near Aubusson, Limoges. Ideal stop over for S.France / Spain
MIESDEVILLA - B&B just 900m from the beach and 20 mins from Santander ferry. Secure bike parking, Evening meals available.
RIDERS REST - is a B&B for Bikers by Bikers in the beautiful Correze region of the Central Massif, France.
SUNNYSIDE B&B - Family run B&B with en-suite accommodation, close to the banks of Loch Lomond, Scotland
VINE COTTAGE B&B - A little bit of England in Germany. A great B&B in the Cologne area.
VILLA KAKELBONT B&B - English speaking B&B for bikers in the Nederlands at Leimuiden just south of Amsterdam
HET WINKEL HOLIDAY PARK - camping park at Winterswijk, in the province of Gelderland, Netherlands.
CLUBS AND ASSOCIATIONS
NORTHERN PAN RIDERS - "the" club for Honda Pan riders in the North of England
PAN CLAN - National club for Honda Pan riders
ROUND BRITAIN RALLY - promotes touring the UK
FAST FREDS - Motorcyclists rights association
FJ CLUB - Yamaha FJ owners club
SLAM - South Lancs Advanced Motorcyclists
EDAM - Edinburgh and District Advanced Motorcyclists
H.O.C - Honda owners Club
DIRECTORIES
ALL MOTORCYCYCLE STUFF - information from bikers, by bikers, and from bikers
BBD MOTORCYCLE LINKS
GLOBAL BIKE TOURS - The one stop website listing all the motorbike tours that operate on every continent and around the world
MOTORCYCLE UK DIRECTORY - Uk Motorcycle and motorcyclesports directory
MOTORBIKE UK WEB DIRECTORY
MOTORCYCLE CO UK: The definitive UK Motorcycle and Scooter listings
MOTORCYCLE UK LINKS - Information and Forum
MOTORCYCLEDIRECTORY CO UK - does what it says
MOTORBIKE–SEARCH-ENGINE - UK Motorbike Web Directory and Search Engine, one of the fastest growing motorbike websites
MOTORCYCLE DIRECTORY - A simple way to find motorcycle information in the United Kingdom
MOTORING TRAVEL ADVICE AND RESOURCES - Travel Information for car and motorcycle touring
MOTORCYCLES/MOTORBIKES - world-wide image library dedicated to those great 'Bikes'
MOTORCYCLE PHOTOS - data base of motorcycle photos, also links to other interests
RIDE THE WORLD - Motorcycle Hire, Rental & Tours
RIDEOUT SOUTHWEST - Bulletin board especially for bikers in the Southwest of England
TWISTY RIDE - Free Online Motorcycle Route Planner! Plan your Motorbike Trip on the Most Scenic Roads with Twisty Ride. Best Motorbike Roads, Riding Directions, GPS Download and Motorcycle Touring Tips!


TRAVEL/TOUR COMPANIES
ADVENTURE BIKE TOURS - Motorcycle tours of all points east, including Hungary and even China
AVALONASIA THAILAND TOURS - Hire and tours in Thailand
BIKETOURS UK - specialising in tours of IOM/Derbyshire /Yorkshire/France/Thailand/Iceland
COLETTE COLEMAN - Colette Coleman author and worldwide travel specialist . Her books include Great Motorcycle Journeys of the World - and a new book out October 2014. 
CIMT - Central Italian motorcycle tours - road tours in Italy
DUE SOUTH MOTORCYCLE TOURS - authentic African motorbiking holiday experience using BMW GS 650/1200 bikes 
ENDURO SIDECARS - off road sidecars 
HIGHLAND MOTORCYCLE TOURS - Motorcycle hire and road tours in Scotland
HC TRAVEL - Comprehensive worldwide information on motorcycle hire, offroad riding and road tours
IMTC - International Motorcycle Touring Club
MOTOROADS - Motoroads Adventure Tours . Tailored and self-guided adventure tours in Bulgaria.
MOTORCYCLE TOURS THAILAND - Guided Motorcycle touring in Northern Thailand
PURE DIRT BIKES - off road bike tours in New Zealand
RIDE - ADVENTURE - adventure motorcycling and accommodation in Wales
SILK OFFROAD TOURS - Motorcycle adventure tours along the great Silk Road
SOUTH PACIFIC MOTORCYCLE TOURS - Guided, Independent tours and bike hire in New Zealand
SHIKHAR TRAVEL INDIA - Award-winning adventure tours including trekking in Himalayas, adventure safari tours in India. Guided climbing, cycling and family holidays
TWO WHEEL TOURING - Australian Motorcycle Touring Portal for the enthusiast to learn about trips, interact with other riders, or find out about services and products of interest to the motorcycle tourist.
MOTORRAD ADVENTURES - On/off road tours including route 62. in the western cape of South Africa
VOYAGE VIETNAM - Motorcycle Tours in Vietnam, Laos, Cambodia and China
WELSH TRAIL RIDING - offroad trail riding in Wales
PRODUCTS & SERVICES
ACTIVE GPS. CO.UK - Retailers of GPS equipment, speed camera detectors and accessories
ALTBERG BOOT MANUFACTURERS - Quality walking and biking boots made in the Yorkshire Dales
ALPHA SUSPENSION SET-UP - Bespoke motorcycle handling service
BIKE– QUIP - Specialist in Honda STX1300, ST1300 and ST1100 accessories
BIKER CUSHION COM - "carries the full line of ROHO AIRHAWK Motorcycle Cushions for all cycles including Harley Davidson seat cushions and Honda seat cushions." (USA site) 
CHOPPERTOWN  - For all things regarding 'Choppers' plus the site for cult/hit motorcycle movies. 
DEVITT INSURANCE - Low cost Motorcycle Insurance for motorcycles, mopeds and scooters
DAVID SILVER SPARES - specialise in Honda motorcycle parts from the 1960's
DUCATI INSURANCE .CO.UK - "The official UK Ducati Insurance scheme"
ELITE SECURITY SUPPLIES - For all your garage and bike security needs
EXOTIC SPORTBIKE - Motorcycle parts and accessories for all types of sports bikes
FUN BIKER T-SHIRTS - biker T shirts for all occassions.
EXCHANGE-RATES.COM - Features live exchange rates, money transfers and more.....
MOTORBIKE-GIFTS - gifts for the motorcyclist
MOTORCYCLE PRODUCTS LIMITED - online motorcycle parts & accessories store. Free & Next Day UK Delivery on pattern & genuine parts for all makes and models.
STAHLKOFFERS PANNIERS - British built -R1200Gs type - metal panniers - at sensible prices
ULTIMATE ADDONS  - motorcycle accessories for your touring needs
WICKED QUOTES.COM - "The Motorcycle insurance specialist" 


VARIOUS
COLDSTREAM BIKE TRAINING - Your one-stop shop for all your motorcycle training needs including CBT, full licence, rusty riders and advanced training.
DALESMAN MAGAZINE - 'the' Yorkshire Dales magazine
GRAHAM GIBBS - Artist , garden design and a biker.
MOTORCYCLE SAFETY - tips and suggestions on Mororcycle safety.
WHICHBIKENET - online biking magazine offering news and reviews - 100% free
YORKSHIRE DRIVING SCHOOLS - car and motorcycle driving lessons in Yorkshire 


Please note inclusion of these links are for information only and in no way should be considered as a recommendation from ourselves