Outer Hebrides 2019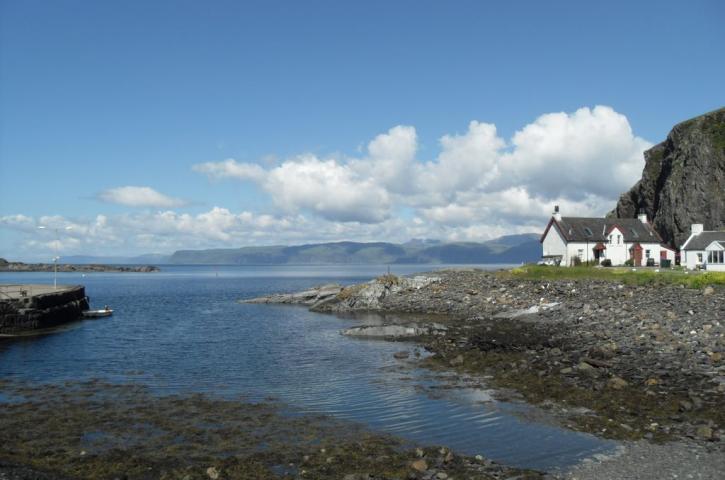 Thanks to Roy and Alison for once again running a great Scottish Tour - I am pleased to say that this year the tour was blessed with some pretty good weather - here is what she has to say.
Outer Hebrides & Highlands
8th – 18th June 2019
Do you know … we NEVER tire of touring in Northern Scotland.  Even on a wet day, you can't beat the stunning scenery and empty roads.  But when the sun is shining it is absolutely awesome!
We had a great group of people, some we already knew from previous tours, and met them all at Carlisle for dinner on the first night.  We were treated to a 'Gin & Fizz' night, which consisted of plenty of gin, a four-course dinner and entertainment at the hotel, all included in our package!  Well done with that one Dave!!
After breakfast we made our way to Inveraray via the Galloway Forest, Girvan and Ayr, crossing the Clyde to Dunoon.  We had a wee detour due to an accident which took us about 45 minutes on a single track road (no passing places and we had to squeeze in to the side of the road to let oncoming traffic get through … including lorries!!)  Another fabulous hotel though … lovely rooms and great food!
On Monday morning we packed up again.  We headed to Lochgilphead then turned north following the coast.  The sun always seems to be shining when we go over to the Island of Seil.  Easdale is such a beautiful relaxing place and we made the most of it.  Nothing much to do there but have a coffee and sit basking in sunshine, drinking in the scenery and peacefulness!!  Onwards and upwards through Oban, Fort William, with quick stops at the Commando Memorial, Loch Garry viewpoint, and Eilean Donan Castle before reaching our destination for two nights in Plockton.
On the first of our 'free days' we went over to Skye and toured the island.  Unfortunately Steve and Anne, who were touring on their own, got a double puncture in the rear tyre of their BMW.  They waited hours for recovery and arrived back at our B&B at dinner time!  The following morning they were collected (with their bike) and taken to Inverness.  They made it in time for the ferry from Ullapool over to Stornoway!  The rest of us headed for Applecross … that was the best ride over the Bealach na Ba we've ever had.  It was warm, sunny, not too windy and little traffic so we could enjoy the experience.
We enjoyed our time on Harris and Lewis.  We had a ride-out on the Thursday down to Leverburgh which is down in the south of the main island.  Then through to the Callanish Standing Stones before heading back to Stornoway.  On Friday morning only a few headed out to the Blackhouses.  It was absolutely pouring with rain.  The rest of us decided to wait it out in the reception at the hotel and just chatted.  When the rain stopped we headed for our ferry … no point in getting soaked then having to sit in wet gear for nearly 3 hours!
Our two night stay in Ullapool saw us touring the northwest corner of Great Britain.  We had a quick stop at the pie shop in Lochinver and another stop at Smoo Cave before heading down to Lairg and back to the hotel.  Mark and Martin had set off early in the morning for John o' Groats and caught us up at Kyle of Tongue.
On Sunday morning we left Ullapool for Crieff.  Our route took us down the north side of Loch Ness, Drumnadrochit, Urquhart Castle, Invermoriston, Fort Augustus, then back to Fort William.  We then headed through Glencoe, Rannoch Moor (where we all got soaked) and lunch at the Green Welly (where we all dried out again).  Our hotel in Crieff was a new one on our list of 'fabulous' ... big, modern and just totally different from all the other hotels.  I have never seen such a huge assortment for a buffet breakfast … anything and everything you could ever think of to eat!!
We left Crieff and had a brief stop at Knockhill race circuit.  Lunch was at South Queensferry at the bridges viewing point.  We then had a lovely ride down the A7 and A6 to Kendal and to our final hotel in the heart of the Lakes and Dales. 
All in all, this was a fabulous tour.  The weather was kind to us – even though the forecast was awful! Two wet days in ten is pretty good!  Great accommodation, fabulous roads/scenery and good company … what more can you ask for?