Killarney & SW Ireland 2019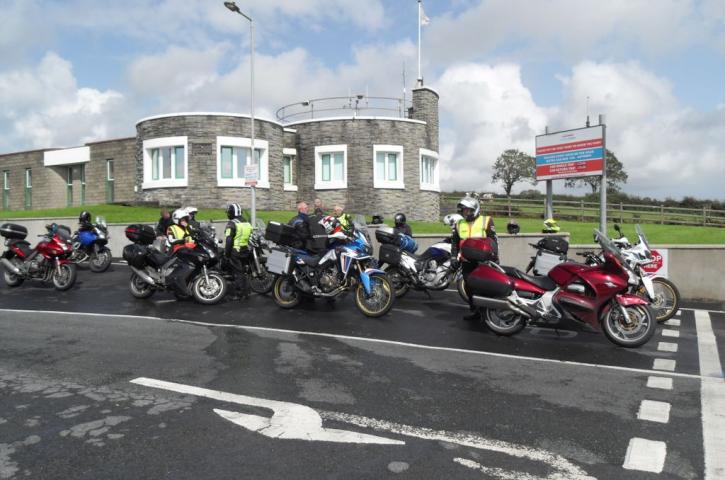 Many thanks to Alison for her blog on their tour to Ireland, here is what she has to say.
We had an overnight stay at the Premier Inn, Bangor on the way to meet everyone at the ferry at Holyhead for the start of our Killarney Tour.  Rain/drizzle met us in Dublin but not enough to dampen our spirits.
We had a major malfunction with our satnav (nothing new there then) but with the exception of a few of wrong turns, managed to remember our way .. you can't beat a good old fashioned road map!!
A couple of people made their own way to our first night in Shannon and Ken even managed to get in the airport somehow but was soon turned around!!  Don't think they allow motorcycles on the runway!
The following day we took the long way to the Cliffs of Moher where most had a wander and stretched their legs. We followed the coast down to the Killimer where we had a short wait for the Tarbert ferry. Our accommodation for the next four nights was at a fabulous B&B in Killarney .. a beautiful town with a buzzing night life with its many bars, pubs and restaurants.
On the first of our free days we travelled through Molls Gap and then toured the Beara Peninsular taking in the Healy Pass and Pegs Café.  The Dursey cable-car can take six persons or one large cow over to Dursey Island!
The Ring of Kerry was next.  We had light rain nearly all the way round so headed back to Killarney early – through Molls Gap again (never tire of that road) - as torrential rain was forecast early afternoon.
We left the Dingle Peninsular for last and had our heads up in the clouds for most of the trip and didn't see an awful lot!!
On Friday we made our way back east to a lovely hotel in Wexford.  We stopped at Blarney Castle on the way.  Very expensive now to get in and most decided to go on.  Anne, however, did a quick sprint to the castle to kiss the Blarney Stone!  Shame you missed it folks, as it is very peaceful and picturesque .. a great place to spend a couple of hours!
We had a very early start on Saturday morning and we made our way to Rosslare for the 8 o'clock.  After a bit of a blip at the ferry terminal (why do ferry companies always overbook?) we all managed to get on our scheduled crossing! Roy and I were still strapping our bikes down when the stern doors closed and we were underway!!
Satnav has now been sorted.  I've deleted 90 odd routes, done a master re-set and, yay, it seems to be working ok!!