Antrim, Donegal and NW200 2019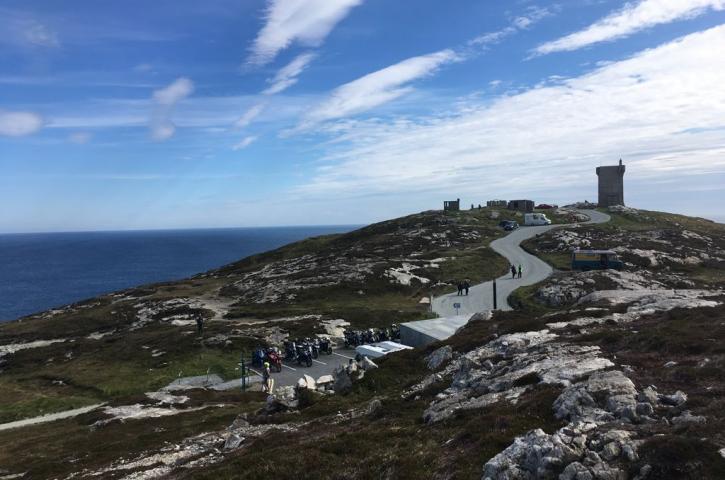 Apologies for been a little late in putting the blog on the website but I have been a little snowed under since returning from the USA. Having looked at the photos in the gallery and talked to Roy and Alison it seems it was another successful tour to Northern Ireland. They had a pretty good week weather wise (ok not as good as 2018) but it was only spoilt by a wet day on Saturday race day, fortunately they got to see some good racing on the Thursday night. Anyway I will leave Alison to tell you how they got on.
The first tour of the year to Donegal and the NW200 races was brilliant.
There was a change to our first hotel … an old favourite that has been fully refurbished and, although the rooms were small, they were perfectly formed.  Lovely food too!!
We were up and about early to catch our 11:30 ferry from Cairnryan to Belfast.  A couple of the lads decided to take the A2 coast road to Derry, but the rest followed Roy on a quick jaunt up the M2/A6 for an early check-in and relax in the bar.
Although the skies were a bit grey, (didn't need sun screen after all) it didn't deter us from riding the coast road on Thursday.  We had a quick stop at the Dunlop Memorial Gardens, then made our way to Cushendun for lunch.  It was quite overcast as we followed the coast road and we couldn't see the Mull of Kintyre this time.  The ice-cream van turned up at the Carrick-a-Rede viewing point where we parked, waiting for the roads to open on the NW200 circuit.  We dropped people off at the Ballysally roundabout ready for the evening's racing but a few of us continued on the A2 coast road back to the hotel.
On Friday we went to Malin Head.  Although the landscape is quite barren at the most northerly point of Southern Ireland, the views are stunning!  Tea and biscuits at the Seaview Tavern followed by some quite technical country (local) roads.
Saturday was race day.  And the rains came!  And I broke down!   But not before going to Joey's Bar at Ballymoney, and Bushmills Distillery for lunch!!  Most people went to the racing which did eventually go ahead … I think most of the races were completed and everyone seemed to enjoy themselves!
Sorry folks that Roy and I never got to say cheerio to you.  My bike arrived at Belfast in time for the 15:30 ferry (not the 11:30).  I did, however, have a ride on a ST1300 Pan while Roy pushed my bike on the ferry.  Before you all shout 'equal rights', I did push it through security and down to the check in … but my darling husband took over and let me catch my breath!!  We got home at 10 pm followed by my bike at 10:45!!  New up-rated regulator/rectifier and stator has been put on and the problem has been cured!  I've heard from some of you, but hope that you all enjoyed yourselves and got home safe and sound.
Hope to see you all on tour next year.
Alison & Roy
Yes folks we love Northern Ireland and the NW200 and will be returning in 2020.  cheers Dave