Gorges, Beach and Mountains 2018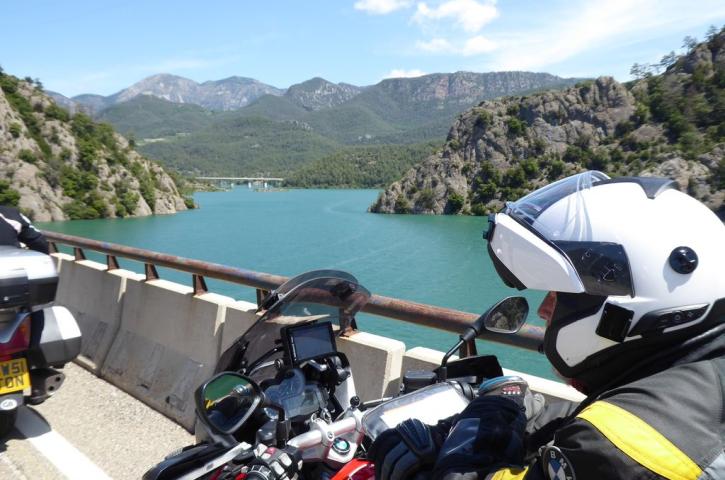 Yes another great tour to the gorges of France, Costa Brava and Pyrenees
OK I admit it I am way behind with my blogs, so much so that although this tour was only 6 weeks ago it seems like years. However, that is often the way, the tour seems to pass so quickly and yet at the end of the tour the first day seems a dim distant thing.
However, what I do remember that this was once again a great tour, not only due to the weather (yes I know its a pet thing with me) but that we had a great crowd and enjoyed some really enjoyable riding.
Having crossed via St.Malo we made our way to the Loire Valley for our first overnight stop. Watching on TV we saw that France was been deluged by terrible storms causing extensive flooding - this seemed rather surreal as we sat on the hotel terrace bathed in beautiful sunshine.
The forecast continued to be terrible, but somehow it never reached us, and we continued to enjoy blue skies and sunshine as we rode through the Cantal Mountains over the Millau bridge and into the Tarn Gorges. Two nights there allowed us time to explore a little, many went for a walk into the local town whilst some of us set off for Mont Aigoual. This we found, albeit in quit a bit of cloud, but then we had a frustrating return journey due to a road been closed due to a local festival. Throw in a diversion with small mountain roads freshly resurfaced/gritted .... and I was glad to get back to a beer and the hotel terrace.
Time to relax at our next location on the Costa Brava, a small town on the coast provides a great stopping place away from the normal holiday destinations and is a place we always enjoy returning too.
Mountains next as we entered the Spanish side of the Pyrenees for 4 days of touring at 2 different locations. Once again using old favourites we had a great time, finding one of our normal roads closed, we found a great alternative, often the way you find these roads in the first place.
Our tour finished with an alternative stop at a new hotel for us in the Rioja region, another great find and a hotel we shall use again. On the route we tried a new road, which was terrible and had ones teeth chattering with the poor surface, but of course in true Spanish fashion, the European Common Market came to the rescue and the Spanish wisely spent the money resufacing the rest which can only be described as billiard table perfection!!
I admit I am a fan of Spain, it has everything necessary to provide a really great tour, and as the roads become more crowded, offers traffic free roads, mostly.. with great surfaces, lovely scenery and sensible prices.
We will be returning next year around the same time, we have provisional plans for a tour down to Andalucia and back , I can't wait.