Antrim, Donegal & NW200 2018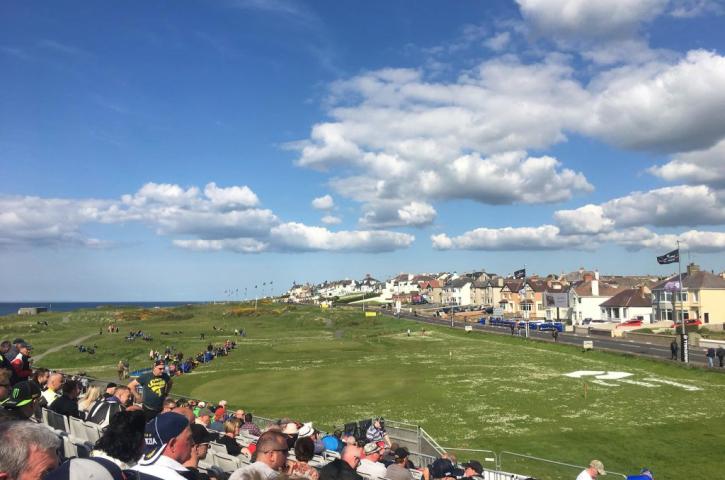 I felt sure I had already posted this report from Alison at the time, however, its disappeared so here it is again!
NW200 2018
I seem to be repeating myself every year … we've just got back from another very successful tour to Donegal and the NW200 races.
No-one got lost, there were no punctures, no running out of fuel.  Graham did, however, have his ST1300 knocked over by an 85 year old gentleman driver in a petrol station.  Graham's bike gave a little rock and fell on to its side, landing on the fin which left a little scuff mark.  A lady called the Garda saying there was a 'gang of bikers causing trouble'!!  When the Garda arrived, he found some well-behaved, grey-haired motorcyclists, just waiting to get underway again!
During the week/10 days before the tour, the weather forecast was for rain and we just hoped the racing would go ahead.  In essence, the weather was absolutely glorious, just what the ardent race-goer wanted! 
We toured the Antrim Coast, the Giant's Causeway, Ballintoy Harbour, Bushmills Distillery, Gortmore, Dunluce Castle to name just a few!  We also visited Malin Head, which now has a tea bar and a toilet block, (thanks to the Star Wars Storm Troopers).  Most of the single riders went to the racing, some had grandstand tickets at the start/finish line.  Others visited Killybegs, Glencolumbkille and Donegal.
All in all, we had a very good tour with some fantastic weather and great racing.  Thank you to everyone who made the tour so enjoyable.  Roll on 2019. 
Note to oneself:  Must remember to take sun lotion!
Thanks Alison and Roy for yet another great tour to Northern Ireland and the NW200 races. We had one of our largest groups for this years tour and so I was so pleased that they enjoyed fantastic weather - not a drop of rain. We will be repeating this tour next year.