Canyonlands Tour - USA 2015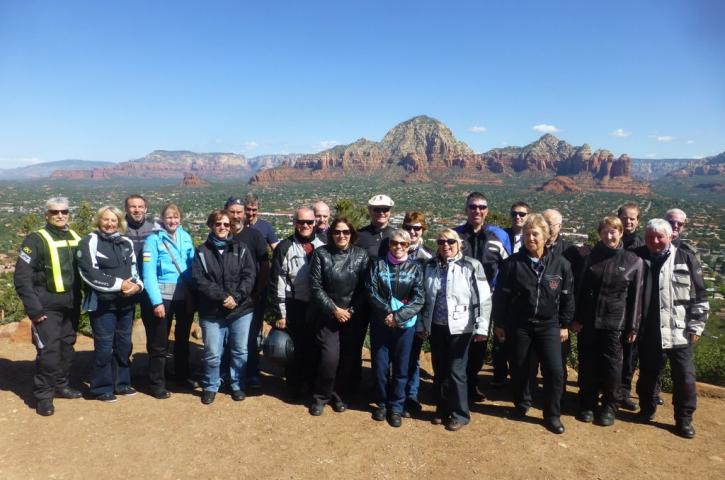 The beginning of May saw everyone fly into Phoenix to join our USA 'Canyonlands' Tour. This year we had decided to move further northwards to tour not only Northern Arizona but the Southern part of Utah. Within this area lies some of the best scenic roads and dramatic landscapes you are likely to find in the USA.
Having picked up our bikes we headed northeast to the Northern borders of Arizona, our first call was Meteor Crater.  Although not on our original itinerary, it was somewhere I had never visited myself and seemed a shame to miss it as we were passing so close. From here we headed east back onto our original route to the route 66 town of Holbrook.
The following morning, one of the hire Kawasaki Concourses (GTR1400 to me and you) was a little reluctant to start, but we were soon underway to enjoy the beautiful Petrified Forest and Painted Desert, Window rock was next before ending the day at one of my favourites, 'Canyon De Chelley'.
The next morning the Kawasaki again would not start, so Mike stayed behind with several others whilst we went to enjoy the views of Canyon de Chelley from the South Rim. On our return and after much pulling and poking the bike mysteriously started and we were on our way to the fantastic Monument Valley. It really was at its best and we even had a flight of Army helicopters come through to add yet another photo opportunity.
Third morning and again the Kawasaki refused to play, so Val and I stayed back with John and Eileen whilst a replacement bike was sent from Phoenix. Luckily Bluff has an excellent tourist attraction in a reconstructed Fort and settlement and we spent several hours there. We were impressed not only by the Fort itself but an interactive video which showed how the Mormon settlers opened up a 1200 ft drop ravine by hand to get their waggons through on their way east to 'spread the word'. The opening can still be seen and is just known as 'the hole in the Wall, - they were certainly made of stern stuff in them days.
On our return we tried the bike one more time and it burst into life. Seemed apparent that it was a temperature thing having stood in the sun all day, perhaps it had been born in Phoenix and did not like being in any climate under 80F. We decided to wait for the replacement which eventually arrived after 6pm. We were soon under way, and as I was anxious to make as much progress as possible before night fall. I think the next two hours were one of the best rides I have ever had, the roads were empty, the surface good, and the scenery fantastic. The final 40 miles in dark proved a little more challenging, as my Triumph Tiger lights can only be described as 'pathetic', and we were treated to some fantastic thunder and lightning, a sign of a low pressure we knew was coming in. We finally arrived just after 10pm to a cold beer welcome.
Escalante and Bryce Canyon today, and ironically our highest part of the journey coincided with the arrival of the storm, so we were greeted by snow flurries and snow lying by the road. Even at this height this is rather freakish for the time of the year, but everyone found it rather amusing and if anything Bryce Canyon looks even better in the snow.  Thankfully, as we descended, we returned to warmer temperatures, which were to stay with us for the rest of the tour.
Grand Canyon next and a fantastic day for the helicopter flight – this really got everybody buzzing and even those 'not too sure' about fling in a helicopter loved the experience.
Moving on we rode a section of route 66, before spending two nights relaxing at  a lovely hotel amongst the beautiful red rock formations of Sedona. On our last day we had a great ride through the Mingus Mountains which they had specially re-surfaced for us – marred only by Bob been pulled by 'Smokey' for having a light off on his scooter (actually officer it is a Honda Goldwing).
Having returned the hire bikes, we enjoyed our final night in Phoenix before everyone made their way home, or extended their holiday in other parts of the states.
If you are interested we will be having a tour of Arizona in 2016, the provisional tour dates are Saturday 30th April to Friday 13th May 2016. The tour will take you the full length of Arizona from the Cactus and Cowboys of Southern Arizona to the iconic Monument Valley and Grand Canyon in the North.  If you want to 'supersize' your holiday, we will be offering the option to stay two more nights and join us as we head for the beach in Mexico. An air conditioned coach will take us from Phoenix to Puerto Penasco, for a stay in the best hotel on the beach overlooking Baja California. Full details will be on the relevant tour page shortly.