Cactus & Canyon Tour 2014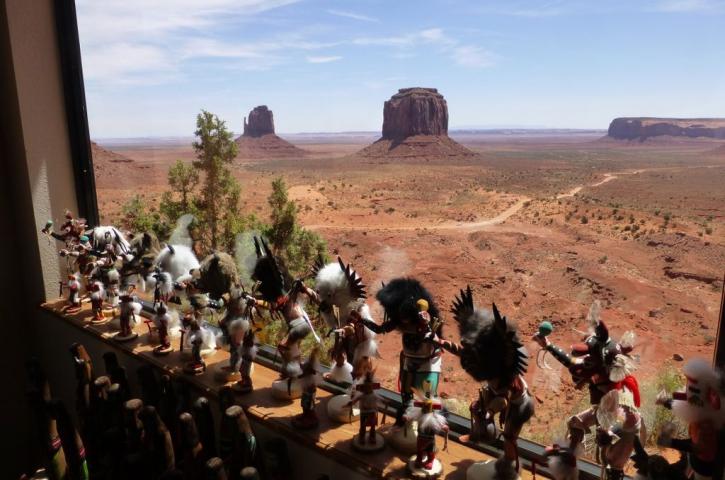 Well I am not really sure where April went, but here we already half way through May. I have not been entirely idle, as we have been busy making last minute arrangements and then running our 'Cactus and Canyon tour' here in Arizona.
The tour started with something you don't expect over here, and that is a day of rain! The good thing is that in a state that has nearly 300 days of sunshine a year, it never lasts, and by the end of the day we were back to our normal blue skies and sunshine.  The tour went very well; we had a mixture of bikes from BMW GS's to the traditional Harley's, all of which behaved, with no breakdowns or major dramas.
Our tour took us first to Tucson where we spent 3 nights taking day trips to different local attractions, one of which was 'Old Tucson'. This old movie set was where many westerns were filmed, along with the classic TV series 'High Chaparral'.  
 We also changed this year's schedule slightly to include a visit to the Pima Air Museum and views of 'The Boneyard'. Known officially as 309 AMARG, this is a 2600 acre patch containing over 4200 military aircraft in 'storage' and quite a sight. (You will have seen similar on Ch4 intro clip) The US government carefully chose this sight due to Tucson's good weather and low humidity thus ensuring practically no corrosion.
We had lots of laughs as we headed to 'Big Nose Kate's Saloon, on our stopover  in the western town of Tombstone, followed next day by a visit to the 'Lavender Pit', a former open pit copper mine in the historic town of Bisbee.   From here we turned northwards past Wilcox to Morenci, where another copper mine, this time the largest in the USA, had us amazed at the sheer scale of open pit copper mining.
It was time to let everyone make their own way as we joined the Devils Highway. Now US route 491, the road was originally route 666 (the number of the devil) hence its nickname. But for any biker it is heaven, offering 120 miles of bends and twists that left everyone tired but grinning from the experience.
Indian country next as we visited one of my personal favourites, Canyon de Chelly, followed by the backdrop to many westerns, the beautiful Monument Valley and finally the even more amazing Grand Canyon, truly one of the few wonders of the world that lives up to its name.  We had a chance to see the canyon from above as we took a helicopter ride across to the North Rim and back. A strong wind made for a bit of a bumpy ride, but did nothing to spoil the experience.
Feet firmly back on the ground we headed for Flagstaff and Williams to ride a short stretch of Route 66. Much of it has now disappeared under the modern freeways, but for many it still represents nostalgia of the days when it was the USA's main highway for the migration of workers west.
Laden with souvenirs we arrived at our hotel amongst the stunning red rocks of Sedona. We just have time to change before our jeeps arrive to take us on an off-road ride into the park with its beautiful landscape and diverse wild-life. A few twitchy moments as we climb up and down over the rocks and through the bushes, but guess these guys have done it a few times before and their constant banter keeps us all amused.  
Unexpected highlight for many was a visit to the Gold King Mine Ghost town in Jerome – what can I say, this place is a collection of items from classic cars and bikes to just plain junk ! However the star of the show is the owner Don Robertson who stories and knowledge of all things mechanical kept us all enthralled – definitely a must for future tours.
Our final ride took us along the twisty Mingus mountain highway and back to Phoenix; they obviously knew were coming as it had been resurfaced - a fitting end to a great 1500 mile tour of Arizona.