Croatia, Slovenia & Italy 2018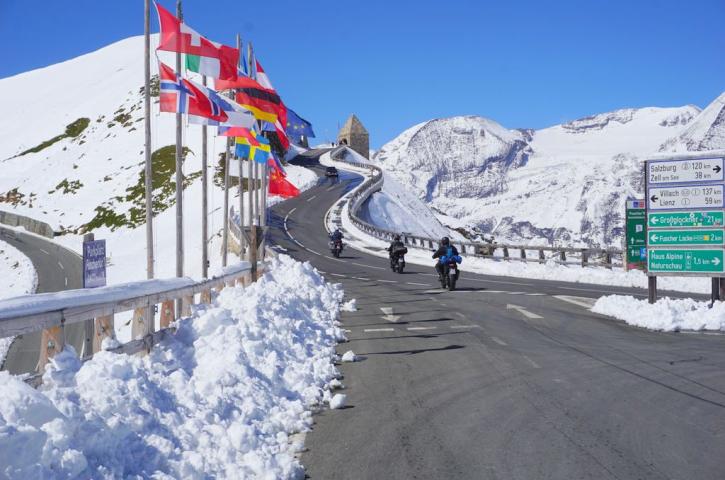 This is a tour we have done for several years in a row, but one I always enjoy.
It was a full tour for this year's Croatia, Slovenia & Italy tour and I had to admit the carpark looked rather full when we all joined up at the first nights hotel in Germany. Thankfully there were some seasoned travellers amongst them and several groups set off for our destination in Bavaria. 
The route is predominantly the A8 but it's a long way and no one can deny the motorways soon crunch the miles. Unlike last year we had a good dry run and were soon enjoying a beer in the hotel garden before sitting down to dinner.
The next day saw us leave the motorways behind as we passed Zell am See and headed to the Grossglockner. On arrival I was surprised by the amount of bikes and cars, but it soon become obvious that they were waiting for the pass to open as it had been closed due to the previous night's snow!
Thankfully our timing was spot on, and after a coffee we were free to pay the toll and start our ascent. I must admit I was a little apprehensive with visions of snow covered roads, but they were perfect as was the scenery – it was absolutely stunning with snow as far as you could see, all under perfect blue skies.
Our day finished with a beautiful sunset over Lake Bled, the hotel did us proud by giving most Lake views it really finished off a perfect day.
Our short journey into Slovenia was uneventful and we were happy to look after the bikes whilst everyone took the train underground to see the Postojna Caves. Whilst waiting an Australian couple came in, they had been travelling the world on their bikes for the best part of a year, judging by the stickers they were certainly well travelled.
The sun continued to beat down on us as we entered Croatia for a 3 night stop at a 5 star hotel next to the Adriatic, as usual some (including myself) did not move. It's such a lovely location and even better hotel.
The forecast warned of a change as we left to return to Slovenia, apparently a cold front was on its way, however, it did not affect our journey through the Julian Alps and we arrived at the hotel nice and dry. The next day was a free day (fortunately) because it rained solid till late afternoon. Some went for a walk, some had a lie in and others enjoyed the hotels Jacuzzi and swimming pool.  
The Dolomites were next and we had mixed weather as we climbed the Gavia pass, one of my favourites I was disappointed with the low clouds, but whilst eating lunch the clouds lifted and the pass was its usual stunning self.
Two nights in the Dolomites gave us another free day, some headed for Lake Garda, whilst we took a small group around the passes. We had a great ride until the weather closed in again, but not before we had enjoyed some brilliant roads. Our small group got split up when some were stopped to allow a helicopter to land on the road, I had seen it hovering and realised that it was coming to the aid of a biker had gone over the edge…. I must admit it certainly made ones blood run cold.
Our return back was via Timmelsjoch and Silvretta with a final stop in Nancy. Once again an excellent tour that we will do again, but for 2019 have dropped it to visit Poland.