Tour of Ireland 2018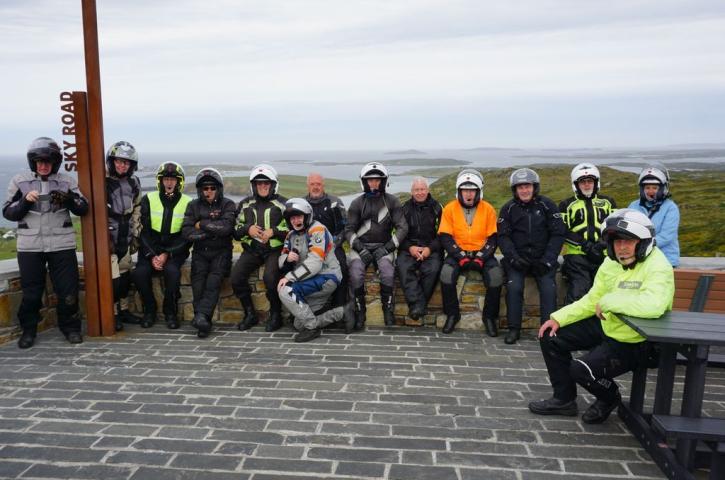 Well I guess my predictions of a good summer did not quite extend to Ireland
I missed out on the Irish Tour in 2014 due to a health scare, so was really looking forward to returning to Ireland. Having taken the ferry to Northern Ireland we arrived in sunshine to start our journey up the Antrim coast to our first overnight stop near Derry. Unfortunately the sun soon disappeared and set the tone for the tour which was basically sunshine and showers.
Leaving Derry we had a great ride across Donegal with the sun playing hide and seek. Our route took us to the west coast where we picked up and followed the Wild Atlantic Way. Past Donegal and Sligo we went before stopping for a second night on the Diamond Coast. Here we had a great hotel and I think possibly one of the biggest rooms I have ever had with views across the Golf Course to the sea.
Not a long way the next day, but a chance to ride the dramatic coastline of Achill Island. Clear views of Croagh Patrick as we worked our way past Clew Bay, Louisburgh and into Connemara. We had a real fun ride along the Sky road, narrow, bumpy, (grass down the middle) but very scenic.
Passing the city of Galway we passed the impressive Cliffs of Moher to our next overnight stop.
The following day started with a ferry ride across the Shannon as we headed to our next destination Killarney. However a visit to the Dingle Peninsula was planned and despite low cloud we approached via the Connor Pass. There was quite a crowd of us so I was pleased to see room for us all at the top, being directed into spaces by Charlie and Olwen who along with the Tiger twins were always about 15 minutes in front of us. There was even a DeLorean car up there!
Fantastic views as usual and the clouds rolled back to give us our best weather yet as we rode around the Slea drive, past Inch beach and onto Killarney.
A free day here, so was looking forward to riding the Ring of Kerry, but to be honest the low cloud rather made it a non-event and when one of the bikes got a puncture we completed the run and headed home.
The next day was not much better and we bypassed the Beara Peninsular into Bantry Bay and past Cork to make a stop in New Ross to see the Dunbrody ship. We basked in the sunshine, the weather front having now passed into the UK. Our final night was at Rosslare, ideally placed for the morning ferry. One of our party phoned to say that had got not one but 2 punctures and admitted that despite my warnings he had come on tour with worn tyres. Although he had a slightly chaotic day he had been overwhelmed by the generosity and kindness shown by the people helping him, something I must admit I have always found in Ireland,north or south.
Our crossing back to Fishguard was smooth and we said our goodbyes before heading in our own directions. Seemed Mr Smarty pants was not going to get away scot free, and despite having good tyres I picked up a puncture. The hole was too big for the ultra-seal to work, but thankfully I had my 'stop and go' puncture repair kit and a compressor so with help (cheers Allen) we were soon back under way.
I guess reading this you would think that it was not a very good tour, but actually it was brilliant. Despite the weather, Ireland is a great place to go, add in super hotels, excellent food, fantastic scenery and a really great good group of riders and you have everything you need to make an excellent tour.
We will be running a tour to Killarney in 2019, it will be based in Killarney, an ideal centre from which to tour the peninsula's of Dingle, Beara and of course Ring of Kerry.