Norway 2018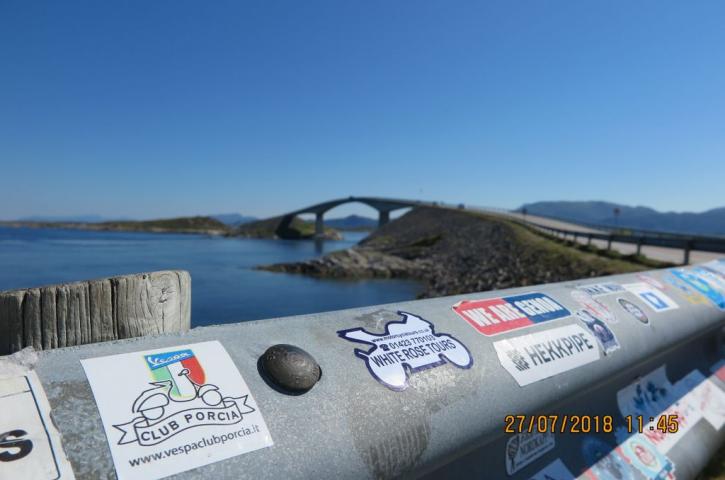 Well I would be lying if I said I was looking forward to the journey to Norway, since the Esberg ferry stopped a couple of years ago it's a long ride across Holland, Germany and Denmark to the ferry across to Norway.
However, the glorious weather this summer continued and made the journey, if a little boring, hassle free.
Our first stop was just north of Hamburg; we do this to avoid the congestion the following morning, due in part to having to pass through the tunnel under the Elbe. The roadworks that were started 2 years ago are still ongoing but gave us no problems, although there were some serious delays going the other way.
Our trip up through Denmark was uneventful, we had a slight moment of excitement when the Danish Police pulled us over as we entered the country, but having ascertained we were British they let us go. Later in the tour we spoke to another biker who said the police were particularly pulling over British bikers and breathalysing them, but I am not sure that was correct. Perhaps he realised we always wobble when riding!
Usual hassle on the fast cat over to Norway, the ferries in that part of the world are very efficient, but why they insist on parking the motorcycles on a sloping surface I do not know, and it automatically gets every biker very 'anti' at the thought of returning to their pride and joy on its side. However all fears were unfounded and we appeared out of the morning mist to a beautiful Norwegian coastline.
Our first day took us directly north through the Setesdal valley to our first stop in Hovden. I think it was at this point that everyone started to realise why it is worth the long ride to get here. The scenery was such a contract to the Europe we had travelled through and as I always say to people is like Scotland on Steroids.
The next day our first stop was the site of the WW2 heavy water factory, before travelling forever northwards past the Hardangervidda national Park to a second night north of Geilo.
The following day we tried a new mountain road route through the Jotunheiman National Park to our destination for the next 2 nights in Geirangerfjord.  To say the scenery was stunning is an understatement, this was only emphasised by the continuing brilliant weather, blue skies and sunshine all the way. Ironically it was a little too hot, with temperatures getting up to 34C , crazy for this part of the world where 15-18C would have been more normal.
Everyone loved our hotel in Geiranger, with its fantastic views over the Fjord and even better buffet (yum,yum). Trouble was that the hot weather was making the beer consumption go up, and at £11.50 a pint that takes some swallowing (excuse the pun).
Free day at Geiranger took us on a ride-out to the Atlantic Coast road; this is only a very short section of road but is considered a marvel of engineering and one of the places to ride on your bucket list. On the way back we routed via the Trollstigen with its marvellous waterfalls, 11 hairpin bends and fantastic scenery. Unfortunately it is on every tourist's wish list and gets very busy. Most had a clear run, but tail-end Charlie John and others got caught behind two vehicles that stopped dead leaving them high and dry on one of the hairpins. Not having 6ft long legs, two dropped their bikes, and John ended up with his feet higher than his head and could not get up!! (I would pay good money to have seen that). Fortunately, no one was hurt and bike damage was minimal.
The next day we headed south to our next overnight stop in Voss. Whilst some went for a short run out, most caught the train to Bergen, which they say in lovely sunshine (unusual for Bergen I assure you).
The following day took us over the fantastic Hardanger Bridge and southwest to the Stavanger region. I was particularly impressed with the Suldal Valley a place I had not ridden down before. However, I was very apprehensive having seen that the 13 was closed, the thought of finding an alternative was never far from my mind, but fortunately unfounded as they only apparently close the roads out of the holiday periods. A couple of ferries today but by this time we were well and truly used to catching the ferries across the Fjords which run backward and forwards like buses.
Our final night was at a traditional Norwegian hotel. I had been looking forward to this, but was very disappointed with the rooms, (after all this was a 4 star hotel) however, the ambience was nice and the dinner was fantastic with the Chef coming out personally to tell us what she had prepared.
The next morning's ride to the ferry brought our first serious rain and perhaps showed everyone the other side of Norway. Thankfully it stopped and we had a dry ride from the ferry to Aarhus in Denmark. Football pitch size rooms this time and Barbeque, the sun came back out and temperature went back up into the 30,s.
A further overnight stop in Germany (cheap beer and another barbeque) saw us finish the ride to Rotterdam to catch the ferry home.
A very enjoyable tour, great group of riders and to see Norway in such stunning weather was something that will stay with me for a long time.