Norway 2016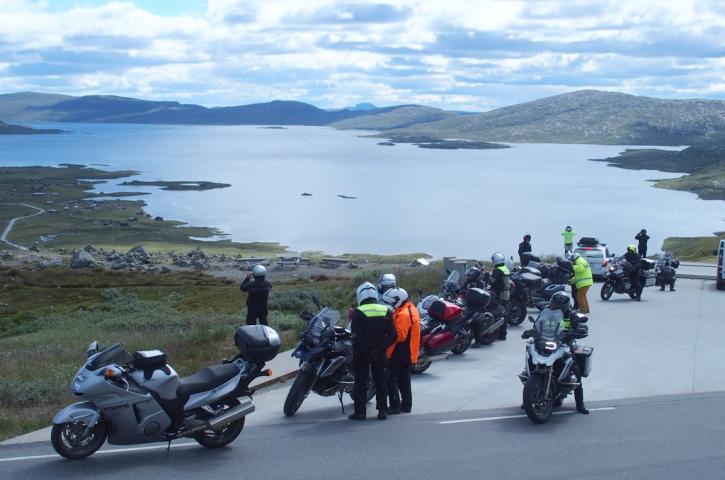 It was suggested that the Norwegian tour should have been called the '4 seasons Tour' and I must admit we certainly experienced every one of them in the last 2 weeks.
The tour started in autumn mode, with dry weather and gusty winds. Following an overnight stop north of Hamburg we continued northwards through Denmark to our next overnight stop at Hirtshals ready for the morning ferry to Norway.  The wind continued to blow and if anything was a little stronger, so it was with some apprehension that we boarded the ferry.
Leaving on time we left the safety of the harbour wall and into a wild looking sea, fearing the worst we hung on – but to our amazement the ship was remarkably stable – obviously these Scandinavians know how to build ships – but I guess they have had years of practise coming over the North Sea to rape and pillage!
It was with some surprise therefore that three of our group were called to the car deck to pick up their bikes which had gone over. Why, we do not understand, all the bikes had gone over away from their side stands and yet were still roped down.  Most of the damage was superficial and thankfully did not stop anyone riding off when we docked on time (take note P&O ferries).
The journey to our first stop in Norway was uneventful – takes a little bit of getting used to a 50mph limit – fine when you are touring but difficult to make any real progress when pushed for time. There was further delay due to a road accident – however one of the prettiest fire ladies I have ever seen had everyone smiling and we were soon under way again.
The following morning dawned spring like, plenty of sunshine but cold….. The countryside was stunning as only Norway can be and we enjoyed some great roads and views as we passed through the Jotunheimen National Park towards Geiranger which was to be our stop for the next 3 nights. Seems we were not going to get there without experiencing winter like conditions, as we climbed the final crest over the Dalsnibba, the temperature plunged to 1C and it started to snow.  I don't think I have ever been so cold, probably because it caught us unprepared clothing wise. So it was with some relief that we reached a lovely warm hotel with fantastic fjord views and one of the best Buffet dinners I think I have ever seen.
Our 3 night stay at Geiranger allowed everyone the opportunity to ride-out where they wanted. Some headed for the spectacular Atlantic Coast Road whilst others the stunning Trollisgen Mountain Road, with its 11 hairpins and a 9% gradient.  Despite the weather - that had settled for sunshine and showers - all came back with nothing but awe at the diverse and stunning scenery they had seen. Unfortunately one rider came back with a little more, having being caught for speeding. To be honest it could have been any one of us, as his speed was not excessive just in the wrong place at the wrong time. However his fine was, being nearly four figures and his licence taken off him.  I think it focused all our minds for the rest of the tour.
The following day was forecast poor, so most had a rest day off the bikes and went walking, visiting museums and took a boat trip of the Fjord. Geiranger is not particularly noticeable on the map, but you will see that is set in a stunning valley and is a popular overnight stop for the cruise ships which are able to come right up the fjord from the sea. The Eagle road that connects Geiranger to Ornevegan climbs high above the fjord and offers fantastic views of the ships below, although at times becomes clogged with tour buses.
By the way, we were told that you pronounce Geiranger as GAY RANGER although not PC, this led to a great deal of mincing and talking in Aussie accents.
Unfortunately Chris Gibbs who has been coming with us many years became unwell and so left the tour to fly home. Hope you are feeling well soon Chris.
Voss was our next two night stop; once again everyone had the opportunity to go their own way. Bergen either by train or bike seemed popular, whilst I and some others went west to Flam to see if we could get on the scenic railway. Due to low cloud we decided against spending our hard earned Kroners and so went on a circular tour. To be honest I bit off a bit more than I could chew arriving back just in time for dinner, however, it was well worth it – some great roads and as usual fantastic scenery.
The weather decided to warm up and we had an enjoyable day in bright sunshine. We passed through the Vallavik tunnel complete with its neon blue roundabout before crossing the recently constructed Hardanger Bridge. You cannot fail to be impressed by the sheer ability of the Norwegians to construct roads that seem to take no consideration of the terrain, if it's a mountain they put a tunnel through it, if it's a gorge or water they build a bridge over it, what's more it's all free!
You will see from the gallery pictures that the entire group came together briefly as we waited 45 minutes whilst they set off charges to blow down a cliff face for road widening – as I say they do not mess about these Norwegians. 
We continued on past the magnificent Latefossen (we are becoming a little immune to waterfalls by now - but this is a beauty and at its height due to the previous rain) – and into the Telemark region. New tarmac seemed to be the order of the day, and 50mph was just fine as we twisted and turned through the countryside enjoying the ever changing landscape until arriving at our destination, the Industrial museum near Rjukan. This was formerly the site of the German heavy water factory that was attacked by Norwegian resistance fighters in WW2 and was portrayed in the film 'Heroes of Telemark' we spent an interesting hour looking around and certain members claimed to have seen Kirk Douglas but I am sure they imagined it.
One thing we did miss and may be of interest to those who visited Rjukan is that due to its location it gets very little winter sunshine, so they have built a mirror on the mountainside to reflect it into the town square. See http://www.bbc.co.uk/news/world-europe-24747720
After a further night we reluctantly turned south to catch the ferry back to Denmark, this time the sea was flat calm and the ferry sped across the Skagerrak (using Brexit Rolls Royce engines I am pleased to say).  The weather continued to improve and summer returned for our transit across Denmark and Germany to our chosen ferries.
Reading back through this blog it almost sounds like reasons not to visit Norway, dodgy weather, low speed limits, draconian speeding fines, £10 per pint, £1.37 per litre, £9 for a Big Mac – but I still think it is a fantastic country. The road system I find fascinating, with its tunnels and bridges, the people are ultra-friendly and all seem to speak perfect English – but above all you will be blown away by the scenery, which seems to go on for miles and miles and has a surprise round very corner.
In our usual manner of changing things around, we will not be going to Norway in 2017, but shall return in 2018, I can't wait.