2015 - a Vintage year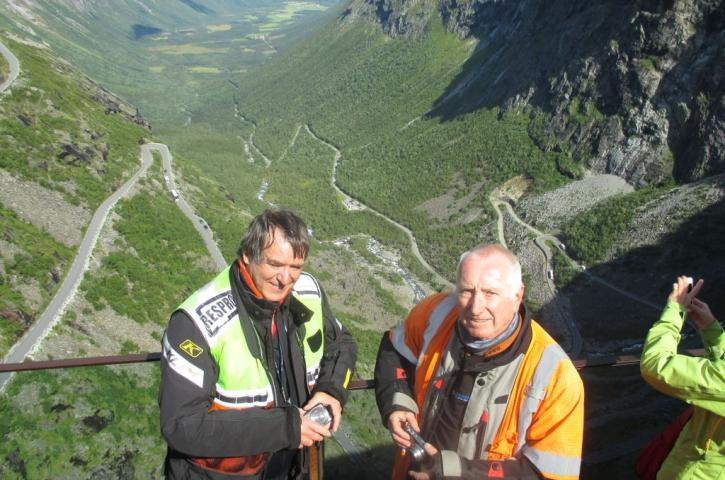 Motorcyclists are a hardy lot, but there is no doubt that the weather can play a great part in how people enjoy and remember their tour, and the exceptional weather in Europe this year certainly helped to make this year a vintage one.
Our first European tour started with a repeat of the Costa Brava tour, this actually did not quite have the excellent weather of 2014 – but all came good for our time on the beach and return through France.
The temperature rose as the summer progressed and even came a little too much at times on the Italy Tour, but once away from the fabulous Italian Lakes and into the mountains, the temperature fell, providing perfect conditions for riding the alps..
After my tribulations of previous years, losing my passport, and then being ill, I was pleased to finally make a return to Austria. What is there not to like about Austria with its lovely river valleys and mountain passes, it's very much a bikers paradise. .
2015 was also our first tour to Norway, with the Denmark ferry now finished we knew it would be a long ride, but took the opportunity to cross over to Sweden on the Oresund Bridge, another item off the' bucket list'. What can I say about Norway, it's kind of like Scotland on steroids. The vast landscapes, scenic Fjords and incredible feats of engineering that take roads over, through and across the countryside are something else.  Again the weather was kind, with only a few minor showers. We were actually told it was one of their worst summers –if so; let's hope we get the same in 2016 when we return.
You can read a full report regarding our remaining Croatia and Portugal tours – what can I say, they were just fantastic.
The touring season ended with our traditional weekend tour, this time in Wales. We were also pretty lucky with all our UK tours this year, and we finished on a high with more dry roads, sunny skies and two great days riding.
I am sure you are all aware of the fact that the 2016 Tour schedule has now been posted. I think this is the earliest ever, but we are very much aware that many people have to get their holiday requests in as soon as possible.  If you have toured with us before you will know that we email you once these become available, if you are reading this and did not receive that email, please contact us, as we may not have your latest email address. We are also changing the way we store and send data and hope to avoid anyone missing our future bulletins, or them ending up in your Spam box.
Believe it or not, next season will be our 20th year of running tours. To celebrate we will be having a dinner dance at our regular hotel near Kendal. I know many of you have already booked and all rooms are full, but if you would like to attend the Saturday night dinner please contact us for details.
For those that cannot make it but are joining us on tour, there will be a free anniversary T shirt to celebrate the event.
Our USA tour is filling nicely, 2016 sees us return to Southern & Northern Arizona plus we have added an optional weekend on the beach in Mexico.  We understand this is very much a 'Tour of a lifetime' for many, but it really is packed with fantastic scenery, places and activities, and is one tour you will never forget.
Our tours are starting to fill and as usual the single rooms are going first. I know I say this every year, but the number of single rooms available is dictated by the hotels and so we are sorry if there is not a place for you.
If you are happy to share (sorry we have run out of blondes) then we can generally get you on the tour of your choice.
Finally we will be tweaking the website for the next couple of weeks, as we load the correct maps man links and 2016 tour Guide. If you see anything obviously wrong please let me know – my eyes are about worn out.
Dave