Pyrenees and Costa Brava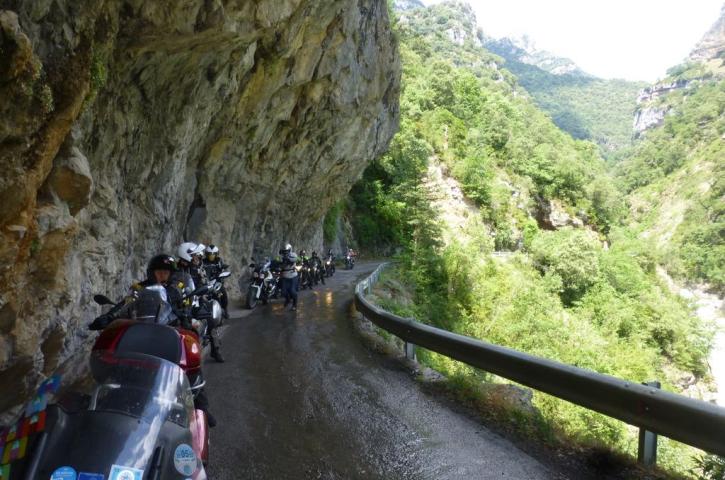 My blogs are a bit like bus's none for ages and then several all at once, but in my defence I have been pretty busy since my return from the USA. However, here is the latest on our Pyrenees and Costa Brava Tour.
Following a smooth crossing we arrived in St. Malo for our journey to the Bordeaux area.  The morning started wet, but cleared and the sun was shining by the time we arrived. We had time for a drink or two and everybody got to know one another before sitting down for dinner.  
Next day saw us finish our crossing of France as we passed through Lourdes, over the Col du Tourmalet and into Spain via the Bielsa tunnel.  
The next 4 days saw us travel southwards along the Pyrenees, enjoying the traffic free well surfaced roads, I am sure these roads were built by a motorcyclist as they twist and turn along the mountains. A poor weather forecast meant that some took a day off and travelled into Andorra to check out the shopping whilst others enjoyed looking around a motorcycle museum, some took a chance and went riding and were rewarded by a rain free day.
Our next destination was a small resort on the Costa Brava, whilst there, most of the bikes never moved, with most people enjoying a day on the beach or just sitting in the bars and watching the world go by.  Reluctantly we left the Mediterranean and travelled northwards along the A75 to cross the Millau Bridge, the fine sunny weather we had encountered in Spain travelled with us and the A75, although a motorway, allows you time to enjoy the fantastic landscape of the Tarn Gorges and the volcanic Massif Central.  
Leaving the motorway, the last 70 miles took us on one of my favourite cross country routes, finally ending at our hotel in a typical French provincial town in time for a beer and surprisingly good steak. Little bit of a culture shock adjusting to 7 euros a pint after the 2.5 Euros in Spain!
More sunshine as we enjoyed the run up to the massacre village of Oradour Sur Glane, a visit there is a very sobering, but worthwhile experience. I was rather upset to see that another of my favourite roads is being bypassed by a new trunk road, glad that I was able to ride it one last time before it disappears.
Following a night in the Loire valley our journey was completed by a visit to the Pegasus Bridge before catching the ferry home.
Thanks to everyone on the tour for making our job so easy, many riders rode independently, and the riders in the group were excellent – you can come again !