Hadrian Wall Country 2015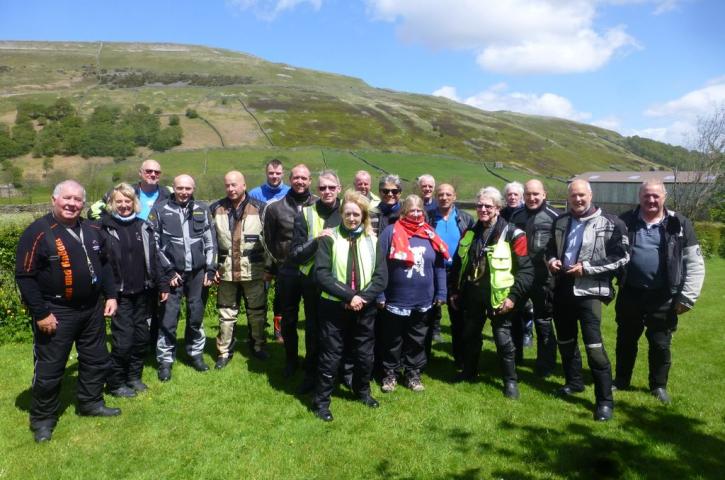 The start of June saw us return to the great roads and lovely scenery of 'Hadrian Wall Country'
Always a favourite, we have not been able to tour there for a while, due to the loss of our previous accommodation. So when we found a new 4 star hotel, it seemed an ideal opportunity to return.
Had a good journey up the A6 over Shap to meet the group who had all enjoyed their ride up, some having come from the South Coast of England, a considerable distance for a long weekend. It was really good to catch up with people that we had not seen for some years, along with some new ones, who  judging by their comments had a great weekend and will return.
On Saturday the rain gods decided that we should have good start as we entered the borders; however they had obviously not talked to the wind gods, who provided us with really strong gusty winds. Not wishing to be out done, the rain gods then returned to add their little bit. Thankfully the roads and scenery of the Scottish Borders shone through along with some sunshine and everyone enjoyed the ride.
Only down side was one of our party who took a slow speed fall after hitting some gravel on a hump back bridge, damage was minimal, but unfortunately Derek's leg did not fare so well, and in protecting his faithful Triumph broke his leg. Spoke to Derek the other day, he is on the mend and thanks everybody who rallied round in his moment of need! Once again the importance of having the correct breakdown & insurance came to light. Despite his RAC card clearly saying Accident and breakdown on it, and Derek having been with the RAC for 30 years, we were told that he was not covered for recovery in the event of an accident….unbelievable. Well done RAC.
As is the way with the weather, the next day dawned with little wind, sun and blue skies, a perfect day for riding the Northern Pennines and Yorkshire Dales. Heading down Teesdale, we crossed into Gods country and had a fantastic day in the Dales, before returning via Hartside Café to our hotel.   Only casualty today was Derek Young's FJR sidecar which unfortunately developed an electrical fault and had to be recovered – was definitely not a weekend to be called Derek.